What's in my client portal?
At each step of our client process, from onboarding to consultation to training programs, we provide lots of helpful support materials to keep you informed and learning while we work together. These materials include videos, handouts, posts, and more and are all organized in guides in your client portal. If you can see it, you should be able to click on it and access it. 
How do I access the portal for the first time?
When your client learning portal in Teachable is set up, you will receive an email asking you to confirm your email address. It should look like this: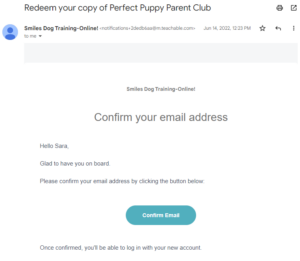 After you click on the button to confirm your email address, you will have access to your account to set a password and access learning materials. 
Sometimes this email ends up in your spam or junk folder, so be sure to check there if you don't see it in your inbox!
Can I access the client portal on my phone? 
Yes! You can login to the website from anywhere, and if you have an iPhone you can actually download the app and access it easily from there! 
Where do I go once I'm logged in? 
Check out this awesome tutorial Teachable put together to guide you through accessing your courses, modules, and materials!