Figuring out how to pick the right collar for your dog can be a little overwhelming, given the sheer amount of options on Amazon or in your local pet store.
I do use affiliate links in this blog post, which means at no additional cost to you Amazon pays me a little bit for my product referral. My "trainer recommends" series will always be products I know, use, and love! And I love shopping on Amazon since we have that prime free shipping 😉
The goal of a collar is to have something where you can attach your dog's ID tags and that's it! I generally recommend against using the collar as your "walking equipment" – harnesses are much safer for walking and more comfortable for your dog. Dogs have suffered neck injuries from a jerk on the leash/collar and dogs are more likely to slip out of a collar than a properly fitted harness.  
When your dog is home alone – it is important to look at the function of a collar. If the collar tightens and loosens under pressure, it is not safe to leave on a dog when they are unsupervised. If your dog catches the collar on anything, the potential for choking and/or strangling exists. Even if your dog doesn't get injured, getting caught accidentally may create bad associations that result in behavior issues.
Always avoid collars that exist to implement aversive learning experiences – the shock/choke/prong collars of the world (e-collars too!). Read more about why punishment should be avoided in training here via the American Veterinary Society for Animal Behavior.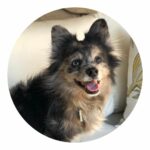 Finn's Favorite:  
Blueberry flat collars are our favorite collars! They come in a wide variety of prints and colors and are adjustable in size for growing pups. The best fit for flat collars is snug enough that it doesn't slip right off their head but loose enough that you can slide two fingers between your dog and the collar.